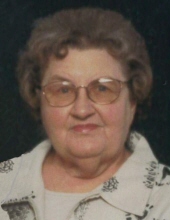 Obituary for Clarice Studer
Clarice Irene Studer, 88, of Mechanicsville, passed away Sunday, June 5, 2022, at Mechanicsville Specialty Care. Family Memorial Graveside Services for Clarice and Robert (Todd) Studer: 11:00 a.m. on Thursday, June 16, 2022, at Rose Hill Cemetery in Mechanicsville. Officiating will be Celebrant Dawn Stephens. Burial for the couple will be in the Rose Hill Cemetery. Robert (Todd) Studer passed away April 23, 2020. Stewart Baxter Funeral and Memorial Services, Mount Vernon are assisting the family.
Survivors include her children, Mary Kaye Smith-Schneidermann of Cedar Rapids, Jim (Deb) Studer of Mechanicsville; three grandchildren, several great and great great-grandchildren; sister, Ruth (Chuck) Walzak of Wisconsin; sister-in-law, Phyllis Studer of Mechanicsville, Karen Studer of Iowa City; numerous other nieces, nephews, family and friends.
Clarice I. Studer was born November 1, 1933 in Lisbon, the daughter of Elmer and Avis Stahl Border. She grew up in the Mechanicsville area where she attended schools. Clarice graduated from Mechanicsville Consolidated High School in 1951. Clarice was united in marriage to Robert D. Studer on February 14, 1954 at the Mechanicsville United Methodist Church. The couple made their home in Mechanicsville where they were blessed with two children. Clarice was a housewife and mother. She also worked and retired from the Mechanicsville Specialty Care Center. Clarice enjoyed cooking and reading cookbooks. She loved sports, especially basketball and football. Playing board games and card games with family friends was popular. She is remembered for watching numerous children in the area. Clarice was a real jokester, who always seemed to have a good time with everyone. She was a member of Eastern Star; Royal Neighbors; American Legion Auxiliary; and she was a fifty-year member of the Mechanicsville United Methodist Church. Clarice loved her family very much and treasured the time spent together.
She was preceded in death by her parents; husband, Robert; great grandson, Matthew; and sister, Doris.
A memorial fund has been established in Clarice's name and should be directed to: Mary Kaye Smith-Schneidermann P.O. Box 5196 Cedar Rapids, Iowa 524]06-5196. Please share your support and memories with Clarice's family on his tribute wall at www.stewartbaxter.com under obituaries.
Read More