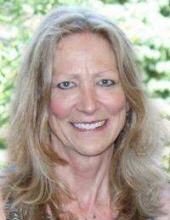 Obituary for Janette Blinks
Janette Kay Blinks, 66, ended her earthly journey on Saturday, June 4, 2022, at her home surrounded by family and friends in Mount Vernon. A gathering to remember Janette will be held on Monday, June 20th from 5 to 8pm at Palmer House Stable, 200 East Main Street, Solon, Iowa.
Janette was born November 8, 1955 in Cedar Rapids to Francis and Elva (Hintz) Wolrab. She grew up in rural Mount Vernon and graduated from Mount Vernon High School in 1973. She married the love of her life, Paul E. Blinks, in 1975 and they spent 39 years together. The couple made their home in Lisbon and were blessed with their two daughters. She was affectionately known as "Nanny" and adored the time spent with her grandchildren. Janette was a gifted artist and gardener. She was involved in the local antique community for many years and established lifelong friendships. She was always searching for the "good junk." She worked alongside her friends for 15 years at Nolz Chiropractic. Currently, she was honored to be helping the elderly transition into the next phase of their life. You would often see her outside working tirelessly on her yard and restoring her old farmhouse. She loved all animals but especially her kitties. She helped to rehabilitate many animals, her most favorite being squirrels. She enjoyed all of the beautiful things found in nature, interesting pieces of wood, rocks, geodes, crystals and shells.
Those left to cherish her memory are her daughters, Leah Wright (Jason) of Lisbon, Emily Hertzke (Adam) of Ames; her grandchildren, Angela Larimer (Tyler), Sara, Mariah (Destiny Anderson), Noel Striegel, Henry and Louis Hertzke; her great grandchildren, Kashtyn Larimer, Paisley-Mae Anderson; her mother, Elva Wolrab of Mount Vernon; siblings, Vicky Petruzziello (Mike) of New Jersey, Jacklyn Moore of Iowa City, Gail Logan and Glen Wolrab of Mount Vernon, Jill Clark (Bill) of Cedar Rapids; beloved nieces, nephews, relatives, countless friends and dear Carolyn Wellso.
She was preceded in death by her father, Francis Wolrab; husband, Paul Blinks; mother-in-law, Maxine Hatcher; father-in-law, John Blinks and a brother-in-law, John Moore.

Thank you to Stewart Baxter Funeral and Memorial Service of Mount Vernon for assisting the family. A memorial fund has been established in Janette's name to the family. Please share your support and memories with Janette's family on her tribute wall at www.stewartbaxter.com under obituaries.
Read More